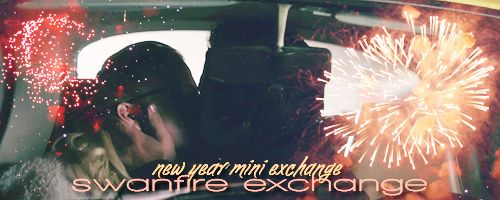 FAQ/Rules

- What Is Mini Exchange?
A mini exchange is the same as a regular exchange in its set up (please refer to the
FQA
for more information regarding swanfire exchange); expect the gift requirements are lower and the exchange runs for a shorter period of time.
- What Are The Gift Requirements For A Mini Exchange?
Fic: 500 words
Graphics*: 2
Fanmix: 1 fanmixes; 6+ songs & cover art
Fanvid: 1 minute
Art*: 1 piece (sketch or b&w)
Icons: 5
*For art, this is specifically hand-created works. Paintings, drawings (whether in a physical medium or digital medium (eg, with a tablet), etc.
*For graphics, this is specifically for computer edited graphics. This includes wallpapers, manips, large graphics (such as Tumblr-style), gif sets, and headers.
NOTE:
If you are mix and matching the requirement of each medium should be divided by the amount you intended on mixing. For example if you plan on doing a fic and a graphic. The min requirement would then be 250 words min and 1 graphics etc.
Dates & Deadlines

Sign ups open:
December 27th
Sign ups close:
January 1st, 2014
Assignments set out:
January 2nd 2014
Gifts due:
January 16th, 2014
Posting begins:
January 17th, 2014
Reveals and master list posted:
January 31st, 2014 (this may change depending on the participation rate)
Signing Up
There are two ways in which you can sign up to take part in swanfire new year mini exchange.
1. Fill out the form below and send it via email to swanfireexchange@gmail.com
2. Fill out the form below and post it in the comments section (comments are screened)
Sign Up Form